Z6_GHK6HJC0OOBS30Q8BLJU6V20P2
Z7_GHK6HJC0OOBS30Q8BLJU6V2056
S2K Commerce - Products Dropdown - South Central
Actions
Z7_GHK6HJC0OOBS30Q8BLJU6V20L2
News
News
Affordable reliability Kool!
Koolaire ice machines are designed and manufactured by Manitowoc Ice, a trusted brand for over 50 years. They are built for reliability and longevity. Koolaire ice machines are simple to operate and are a great option for those just starting a restaurant, needing to replace your existing ice machine, or deciding to add an additional ice machine to your operation. Koolaire ice machines provide you the basic features you need and the reliability you expect from Manitowoc Ice at a price that fits your budget. Koolaire ice machines are available in the industry's most popular sizes. Both 60 Hz and 50 Hz models, dice and half dice "kube" sizes, air, water and remote cooling options (in selected models) modular and undercounter configurations.

CLEANABILITY
Koolaire modular units are easy to maintain and clean. Getting in and out for fast cleaning and service can save time and money. Access to the food zone is obtain by removing two screws and an easy lift–off door. Koolaire modular units uses white plastics in the food zone making it easy to see exactly what areas need cleaning. Smooth rounded surfaces make it easy to wipe clean. Parts that need cleaning and sanitizing can be removed with out the use of tools. The water shield, distribution tube, pump, floats and even the water trough can removed by hand. All Koolaire ice machines come with a patented push button automatic cleaning process. Once in the cleaning mode, just add cleaner or sanitizer and let the ice machine do the rest and return to making ice automatically.
SERVICE
Koolaire ice machines are back by Manitowoc Ice service network. Never worry about parts availability or finding an authorized service agent, you Koolaire will be well taken care of.

South Central is pleased to offer KoolAire and Manitowoc Indigo products.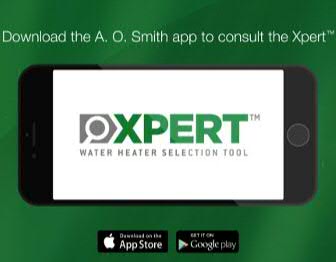 The XPERT App from A.O. Smith
Find the right A.O. Smith water heater for you, using this great tool: XPERT
A. O. Smith has taken its design and industry expertise and applied it to a mobile app that will revolutionize the process of selecting the right residential water heater. Available at Hotwater.com/Xpert or on the A. O. Smith App for iOS and Android, the Xpert™ Water Heater Selection Tool is designed to help contractors lead their customers through the process of choosing a water heater by asking eight easy-to-answer questions about hot water usage, available space and power sources. The app uses proprietary algorithms to provide estimates for performance and energy cost by incorporating localized information for the homeowner, such as area groundwater temperatures and state energy prices. Analyzing user responses and local data, the Xpert then matches those data points to hundreds of A. O. Smith water heaters from a broad range of technologies, including: gas, propane, electric, tankless and hybrid. The A. O. Smith Xpert then recommends the top three water heaters in three categories: "Meets Your Needs," "More Hot Water," and "Lower Energy Cost." Already the leading innovator in water heater technology, the A. O. Smith Xpert is one of the most comprehensive mobile applications of its kind, according to Matt Southards, director of digital engagement at A. O. Smith. "The Xpert Water Heater Selection Tool is a smart, dynamic product recommendation engine because its analysis considers local variables that effect performance, such as energy costs and water temperatures," Southards said. "The Xpert also translates the characteristics of each water heater into practical benefits homeowners understand like estimated energy cost, the length of a shower a model can deliver and the number of showers a model can provide simultaneously." To recommend only models that meet the homeowner's lifestyle and needs, the A. O. Smith Xpert asks a series of eight questions, such as "How many showers would your household like to take at the same time?", "How many showers would your household like to take back-to-back?" and "What size is your largest bathtub?" The Xpert inserts seamlessly into the conversation a contractor has with a homeowner who's considering a new or replacement water heater. It's an app that can help contractors deliver top-performing products and grow their business, according to Jeff Storie, director of marketing at A. O. Smith. "A. O. Smith works closely with our contractor partners to develop the sales tools they need to be more effective in the field and deliver a superior customer service experience," Storie said. "With the Xpert, a contractor can easily guide homeowners to the right A. O. Smith product for their home, educate that customer about the benefits of that model and make a personalized recommendation with confidence." The Xpert function bolsters the already impressive A. O. Smith App, which provides a robust product cross-reference tool, as well as warranty check functionality.

South Central Company is proud to offer A.O. Smith Water Heaters.